Cygnus X-1 is the first proven and "visible" black hole, first discovered in 1971. Manufactured by Wisdom Industries Ltd., this family thrill ride promises high "G" excitement!
Must be 48" tall to ride.
Strobe lights, music, fog, and other high intensity effects are in use on this attraction. Further restrictions posted at the ride entrance.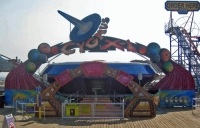 Tickets Per Guest: 5

Ride Type: Family

Rating: Moderate

Location: Surfside Pier