The SkyCoaster is a ride at Adventure Pier.  The riders are first secured into special flight suites.  After being attached to the "carriage," they are hauled up to to the top of the arch.  Once they are at the top, riders have to pull a cord that is one the top of the ride.  Once the cord is pulled, the ride plummets down and swings until the operator hands an open "net" to stop the motion.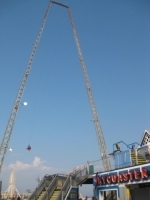 History
In 1994 The Skycoaster was put in Wild Wheels (now Adventure Pier). Years later When the popularity was so great that they installed a second one at Surfside Pier. In 2016, The Surfside Pier Skycoaster was removed.
General Information
Edit
Tickets Per Guest: 24
Additional Price: $20.00
Ride Type: Extreme
Rating: High
Manufacturer: SkyCoaster Incorporated, a subsidiary of Thrilltime Entertainment International Inc.
Height: 100 Feet
Top Speed: Varies
Flight Time: Varies
Capacity per Flight: 1-3
Must be 42" tall to ride.
Further restrictions posted at the ride entrance.
This ride is not included in Morey's Piers daily ride wristband and/or Season Pass program.
Community content is available under
CC-BY-SA
unless otherwise noted.