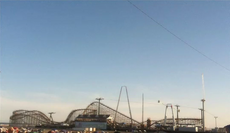 An amazing thrill! Board the end of a 160-foot rotating arm and hold on because in less than one full rotation, you'll be traveling at a full 70 MPH in a 160-foot vertical loop! Did we forget to mention that the seat your sitting in will also be flipping on its own axis? Oh yea, it goes backwards too!
The SkyScraper was a privetly owned ride now owned by the Morey's. This ride stood tall over Hunt's Pier for years until 2012 when they moved the ride to Adventure Pier to make room for the new wooden rollercoaster on the old Hunt's Pier that will span over two piers, Surfside and Hunt's.
General Information
Edit
Must be 48" tall to ride.
Further restrictions posted at the ride entrance. This ride is not included in Morey's Piers daily ride wristband and/or Season Pass program
Tickets Per Guest: Ride Does Not Accept Tickets

Price: $20.00 Ride
Type: Thrill Rating: High

Manufacturer: Gravity Works of Canada

Height: 160 feet

Speed: 5-70MPH

Direction: Forward and Reverse Ride
Vehicles: 2 Capacity of Vehicle:
&nbsp Capacity of Ride: 4

Hourly Capacity: 80

Ride Time: 2 minutes